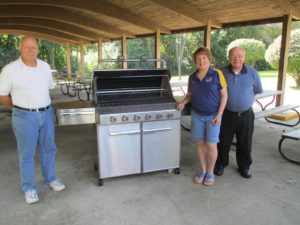 The Saginaw United Commercial Travelers (UCT) presented Community Village with a brand new 6-burner Weber grill. Every year, the UCT manages the food tent at the Village's Strawberry Festival, and their familiarity with the old grill prompted their generosity. (We think that was a nice way of saying they knew how much a new grill was needed.) Linda Buggia is the Senior Counselor of the Saginaw Council #43 of United Commercial Travelers.
Saginaw Council #43 was established in 1893 because traveling sales people were often excluded from insurance products offered by traditional insurance companies. Hence the UCT was developed as a society to make insurance products available.
Today the UCT uses the funds generated by their membership to assist local non-profit organizations like Community Village and their generosity is greatly appreciated.
Presenting the new Weber Grill to Community Village are (left to right) Ralph Buggia, Linda Buggia, and Leo Buggia representing United Commercial Travelers.