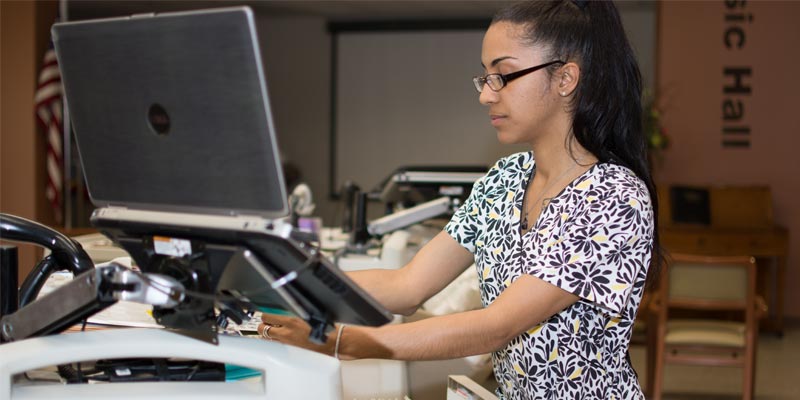 Keeping Residents Safe
Everyone wants and needs to feel safe in their home. Living at Community Village is no exception which is why our staff constantly monitors the safety of residents.
Each living unit is equipped with an Emergency Call System
Medications are packaged in dated blister cards. Every dose administered is electronically charted for a constant double-check on quality and safety
Resident Care Technicians are always the first line of resident safety and are able to provide an initial exam to determine whether medical transport is needed. MMR service is typically less than 10 minutes away with EMTs who are able to connect to the hospital emergency room when needed.
Our staff is trained in CPR and in the use of an AED (available on site) to assist in emergency situations before EMTs arrive
Exit doors are alarmed, including the main entrance where an elopement alert system (Wander Guard) is used. This system provides a turn-key solution for residents who are inclined to wander beyond our facility. Service for this system is provided at a modest fee
Skilled Personnel
Community Village employs a minimum of three Resident Care Technicians at all times. Some are Certified Nursing Assistants (CNAs), Home Health Aides (HHAs), and some are Medical Assistants (MA). Our staff nurse consultant RN, BSN is on call 24-hours to serve the health needs of residents.
Social Worker
Residents facing challenges with daily life have the benefit of a staff social worker trained to guide families and staff through the challenges of dementia. Additionally our social worker assists with personality conflicts, counsels through financial challenges, and often helps families with documentation for Medicaid, Social Security, and Veterans Aide and Attendance.
Medical Services Available On-Site
Medical Doctor. Although residents are welcome to continue with their own doctor, either Dr. Anwar or his nurse practitioner keep weekly office hours at Community Village for residents who wish to designate him as their primary care physician
Home Health Services. Offered by the service provider of your choosing
Mobile Xray. Provides ultrasounds, xrays, and various imaging needs
Mobile Lab Services. Provides full range of lab tests
Podiatry Care. Foot care available quarterly
Hospice Care. Offered by several agencies. Provides appropriate services for terminally ill residents who wish to remain at Community Village
Contracted Medical Services Provided Off-Site
Great Lakes PACE Program. Provides rehab, physical therapy, and all other medical services for low income participants who elect PACE to replace Medicaid as their primary health insurer.
Pharmascript. Community Village has selected Pharmascript as our sole pharmacy provider. This relationship grants access to their med carts, computers, and multiple support services which allow our staff to administer medications with maximum accuracy.