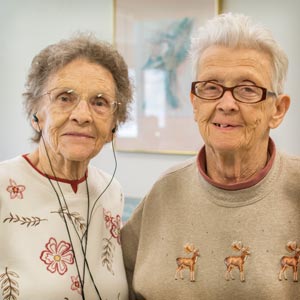 General Definition of Assisted Living – An individual is still relatively independent in regard to activities of daily living, yet unable to live on their own. This living situation is also referred to as a personal care home or long-term residential care. Payment: private pay and possible Charitable Assistance Program. (read how to
Pay for Assisted Living
)
---
By law, assisted living facilities are not permitted to provide medical care to residents. When an aging adult's health begins to decline, the need for medical attention increases and it's impossible to know how quickly this will happen. Community Village works closely with various contracted medical services that provide accelerated care on-site so that, as a resident experiences this natural decline, they are able to "age in place" at Community Village for as long as is deemed safe for them and for our staff. Our goal is to keep your loved one active, healthy, and content for as long as possible.
How Involved Should A Family Be In Selecting Assisted Living?
Not every aging adult is blessed with family willing to help them through this significant life transition. But then there are people like you who would have it no other way than to help. Bless you! Some families find it works well to share the process with siblings or other family members, while others are left to manage on their own. Whichever is the case for you, we're here to help!
Take note and briefly summarize your loved one's current level of independence and medical condition.
Research your loved one's options
Schedule a free consultation. Having a conversation with an Admissions Counselor at a not-for-profit as we are will be far less pressured since there is no sales quota to meet. Take advantage of our expertise, ask questions, discover whether you should be looking for independent living, nursing care, or if assisted living is the best fit for your loved one.
Prepare your loved one's records and assist with the application process
Plan a trial stay
Help with move-in day
How Involved Should A Family Remain After Selecting Assisted Living?
Plan visits to Community Village. Monitor the energy level of your loved one, their engagement with others, and their overall well-being. Share any concerns with our personnel
Plan "field trips" away from Community Village
Schedule doctor appointments
Arrange for medical procedures