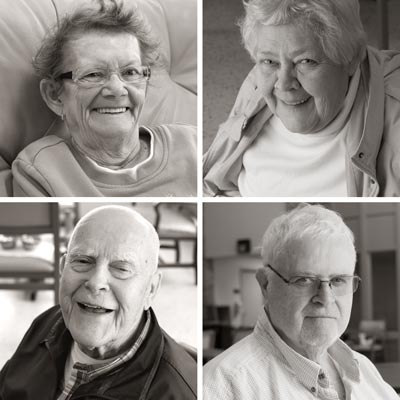 Pre-Admission: Schedule a Free Consultation
Discuss the challenges motivating you to consider assisted living
Discuss the current level of abilities or disabilities
Learn about financial resources
Tour the facility and enjoy lunch
Meet neighbors and staff
Once you have determined that Community Village Assisted Living is the best solution for your needs, you can begin the admissions process by completing the Application (see additional required forms below). After your application has been submitted and reviewed, our Admissions Counselor will schedule an appointment with you to conduct a Personal Needs Assessment that will help to determine what areas of assistance are needed and to define the activities of daily living that can be continued independently. This personalized assessment ensures that each resident is only charged for services that apply to them. Annual Personal Needs Assessments are conducted with residents allowing us to make whatever adjustments the resident, their family, and our staff deem helpful.
Community Village Admission Policies
Applicants to Community Village are considered for admission without regard to race, color, religion, creed, marital status, or national origin
Applicants must be over the age of 60 or able to secure an age waiver
Applicants must be ambulatory or ambulatory with assistance
Final determination of an application is based upon the applicant's ability to meet minimal Michigan HFA (Home For Aged) requirements [LINK] and is subject to the approval of Community Village Administration
Downloadable Admission Forms
The following forms are required to be completed and submitted to Community Village prior to admission:
Additional Information
Whether or not family members wish to be involved in making the actual move to assisted living, it's prudent that family members come to a consensus about it.
When assigned, the applicant's Power of Attorney should accompany the applicant during admission. Other responsible parties are welcome to join them.
Applicant's primary care physician must provide a physical report, order a chest x-ray for TB, and provide a new, hand-written prescription for all medications.
In most cases, admission can be expedited and completed within 48 hours. We advise that admissions take place early in the week to facilitate adjustment.
Rates for Community Village assisted living are based on the type of housing desired and range from $2,000 to $3,100 monthly (private pay). Applicants may qualify for Veterans Aide and Attendance, Medicaid waiver, or Community Village Charitable Assistance to subsidize additional services they may require. Learn More
Our Respite Care Service is a great way to give us a "trial run" to determine if your loved one will feel at home at Community Village.
The admission process is very similar for Adult Day Care participants. Candidates for long term care may find it beneficial to enroll in this service to determine if we are a good fit.
Each Resident is Encouraged to Bring:
View our complete Packing List
Small refrigerator for their room
Favorite snacks
Wall decorations
Bedding: mattress cover, fitted sheet, flat sheet, blanket/comforter
Table lamp
Waste basket
Laundry hamper
Clothes hangers